Tell us how it went.
"OLLIE"
(K6JYB)
APRS
K6JYB ("BugEater")
K6JYB-7 (VX-8R)
http://www.facebook.com/FJOllie
"Some people live an entire lifetime and wonder if they have ever made a difference in the world, the Marines don't have that problem."
-Ronald Reagan
CHECK OUT THE OUTDOOR ADVENTURE USA AMATEUR RADIO NET:
Every Thursday night at 7:30pm PST
Repeater
146.385+ PL: 146.2 Keller Peak (Echolink Equipped)
---
Truckhaven was a really fun run and Ollie and Tom did a great job of guiding us around and keeping the pack tight. We had a couple "oohps" moments and got to visit the famous "Phone Booth" as well. Several of us visited Fonts Point on the way back and watched the sunset.

Last edited by
gon2srf
on Tue Oct 28, 2008 1:34 pm, edited 1 time in total.
_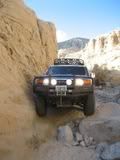 _
---
---
---
---
---
---
---
---
Volhoo's Oohps! Notice the angle of the high lift jack base and the dirt on the bumper. The strength of the FourTreks mounts and the ARB bumper were outstanding. This shot was taken just after Vince exited the Arch initially without a spotter. Luckily the least expensive part is what bent!
Attachments

IMG_5198.JPG (160.41 KiB) Viewed 4207 times
Last edited by
gon2srf
on Wed Oct 29, 2008 4:51 pm, edited 2 times in total.
_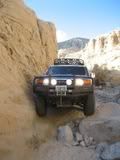 _
---
Who is online
Users browsing this forum: No registered users and 1 guest