The Mojave Road
From Indian Trail to Wagon Road to 4WD Adventure
January 9-11th 2009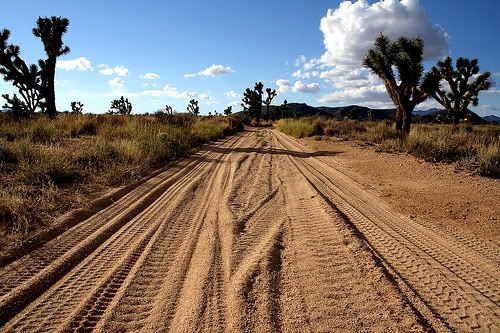 Ok, let's get this ball rolling! For those of you here who want to head on out to the Mojave Preserve for a three day expedition, this is the place to be. Although not an offical fest event, this is going be a remote adventure full of history and beauty. Be sure to bring a tent, lots of water and enough gas to drive 150 miles. Our starting point will be the gas station at the Avi Casino and hotel parking lot. (10000 Aha Macav Parkway Laughlin, Nevada) I'm sure some might want to get a room there thursday night.
http://www.avicasino.com/hotel.html
From here we'll gas up and head on out to the trailhead. From Aha Macav Pkwy we'll head north on Needles Hwy to the Nevada State Line then continue another 0.7 miles and turn left into a dry wash and the beginning of our expedition.
The Mojave Road was once a trade route used by various Indian tribes between the Colorado River and the Pacific Ocean. During the 1860s, five army post were established about a day's ride apart along the trail.
Camping is allowed anywhere that has been previously used as a campsite. There are developed campgrounds a short distance away at Hole-in-the-Wall, Mid Hills and New York Mountains within the preserve. The trail is marked along its length by cairns but some may be hard to spot. Although the majority of the trail is easy, 4WD will help to negotiate sections of loose, deep sand. In wet weather, or just after rain, the trail across Soda Lake can be impassable. The thick gooey mud quickly clogs tires and bogs down vehicles. We'll be prepared to take an alternate route if need be.
I'll be editing this post as needed. Since this will be my first trip along this trail, I don't necessarily have to lead. If someone who's familiar with the area would like to volunteer to be our guide, that'd be just fine. Any other suggestions would be appreciated.

Meeting Location:
Gas station @ Avi Resort (10000 Aha Macav Parkway Laughlin, Nevada)
Meeting Time:
9:00am
Departure Time:
9:30am
Difficulty:
Easy-Moderate
Run Leader:
TBD
Tailgunner:
bruisedFJ
CB Channel:
34
2M Simplex:
146.46
2M Repeater:
Freq. 147.180 / Call Sign WA6TST / Location: Barstow
Freq. 146.940 / CAll Sign WA6EFW / Location: Quartzite Mtn. Victorville
Each driver must be carrying valid automobile liability insurance during
our event in Mojave National Preserve.

Offical Vehicle Limit:
20
Singed Up:
1. BorregoWrangler
2. cowboy4x4
3. big dave
4. ralphie
5. THATSALEXUS?
6. jdholder
7. bruisedFJ
8. bpenn1980
9. lacruiser
10. TheSheepDog
11. Lost canyon
12.
13.
14.
15.
16.
17.
18.
19.
20.
Special Park Recreation Use Permit
A Special Park Recreation Use Permit is required for some activities within Mojave National Preserve. A non-refundable application fee is required from all applicants, regardless of whether or not the permit is issued. There are two fee categories, depending on the nature of the proposed activity:

Groups of at least 7 vehicles or 15 participants for common recreational activities (rock climbing, hunting, fishing or trapping, equestrian use, bicycling, street-legal motorcycle or all-terrain vehicle use, backcountry use and roadside vehicle camping). Application Fee: $5o
I got it, so we're good to go!
My Schedule:
Depart Santee somewhere around 2pm Thursday January 8, 2009
Since my wife will not be joining me, I'll just camp out near the trailhead instead of staying at the hotel.
Meet up everyone around 9am at the Avi Hotel gas station
Run the Mojave trail in 3 days - 132 miles of dirt road
You will need enough fuel to drive 150-200 miles
Return Home - Sunday January 11, 2009
What to bring:
Plenty of water. I recommend at least a gallon per person per day.
Prepare for cold weather. Snow is a possability.
Plenty of Fuel, enough to drive at least 150 miles. At least 1 spare tire. Spare belts, spare hoses, tent.
First Aid kit, all the typical stuff you should always bring etc.
Rough Itenery:
Day 1) Friday-
We will be heading out to AVI Hotel and Indian Casino on the Colorado River near Needles.We will be topping off fuel at the AVI Hotel before we hit the trail head. (3 miles from Casino). Per our permit we'll camp in Caruthers Canyon in the New York Mountains or at Hole-in-the-Wall Campground.
Day 2) Saturday-
Get up and have a nice relaxing breakfast. Run the trail to "Seventeen Mile Point" (and of course make stops along the way to view the sites) and camp there for the night. This is a great area to camp for large groups.
Day 3) Sunday-
Finish up the trail and head home. We will stop off at "Soda Springs" and the "Caves" and end at Afton Canyon. This last section is very sandy along most of the trail. Hopefully we won't be home too late. I'd like to get home at a semi reasonable hour so the last day we may get an early start on the trail.
Sidenotes:
Here are some GPS coordinates I found of some other things to see along the way. Of course, I don't have GPS yet, so someone else will need to upload these.
Lava Tube/Cave:
N35 10.386 W115 46.658 - Turn off the MR, and head North on Aiken Mine Rd
N35 12.814 W115 45.194 - Parking area
Walk up the road from the parking area, probably less than 1/4 mile and the tube/cave will be on your right. Look for the collapsed tube on the left of the road (it makes a ~20' deep crevasse) in order to tell where the tube will be on the right. Go up the hill untill you see the hole in the ground that has the rickety steel ladder in place. Turn on your flashlight and explore!
Slot Canyons 1&2:
These are rugged, and take a little bit of rock hopping and scrambling
N35 01.934 W116 19.708 - Park under railroad tracks
Hike up into the cliff face. Slot 1 is slightly to the right after going under the tracks, slot 2 is quite a way to the left after going under the tracks.
Slot Canyon/cave 3:
This one is easy and family friendly! It becomes a cave, so bring a flashlight.
N35 01.858 W116 19.789 - Park under the railroad tracks
Hike up into the cliff face and enjoy the narrowing slot canyon that eventually becomes a cave! Shortly after the cave starts you get to a couple of climbs that should only be attempted by experienced climbers.

Caves, said to be used by weary MR travelers back in the day:
N35 01.872 W116 22.049 - Park vehicle at West end of railroad trestle
Hike to caves by walking SouthWest along the creek
N35 01.758 W116 22.293 - Caves
Triangle Intaglios:
N34 59.146 W116 28.870 - Turn off of Mojave Road, heading North
N34 59.209 W116 29.141 - Park your vehicle
N34 59.204 W116 29.184 - Intaglios
Link to information about Mojave Road.
http://www.desertusa.com/mag99/nov/stor ... trail.html
From San Diego to Avi Resort-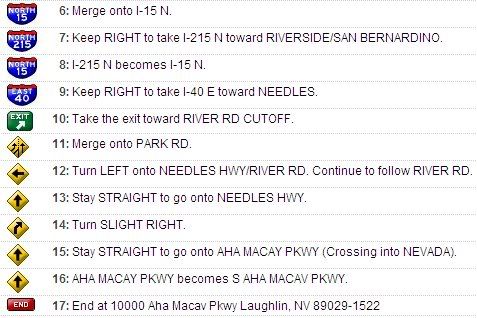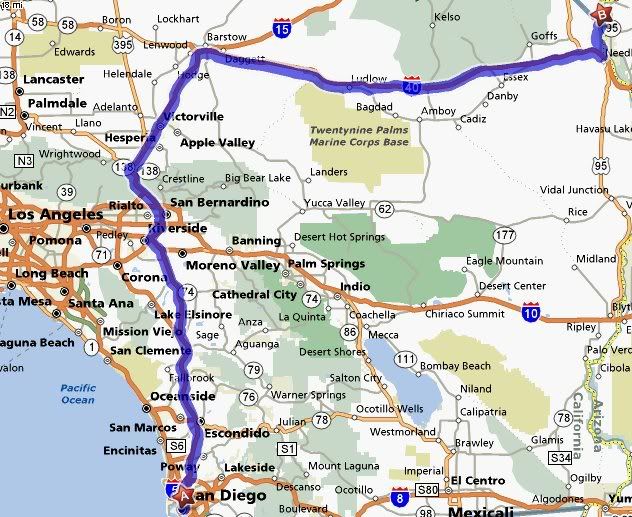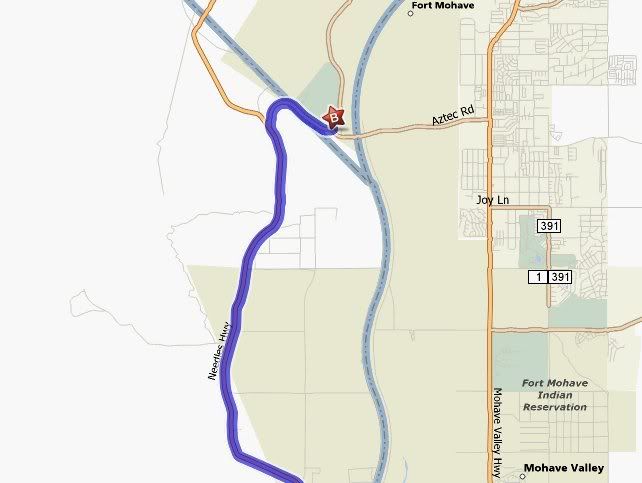 From Avi Resort to Mojave Road trail head. It's like, right there!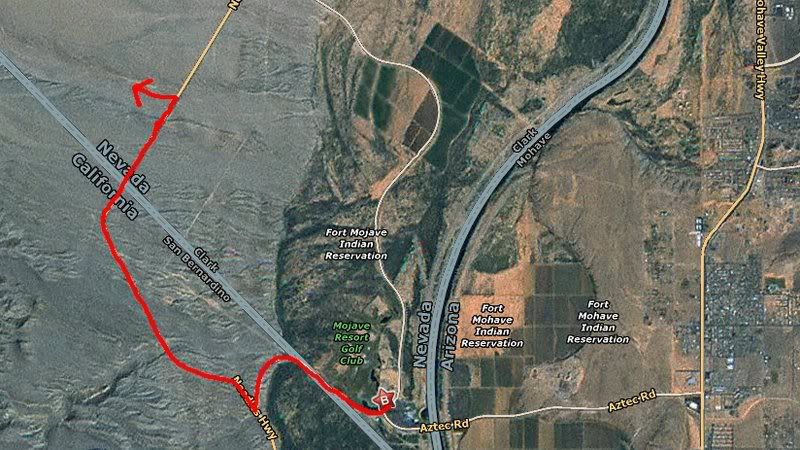 SPECIAL PARK CONDITIONS:
The Permittee must notify the Chief Ranger or Supervisory Field Ranger 24 hours in advance of arrival to Mojave National Preserve. CONTACTS: David Ashe, Chief Ranger, (760) 252-6130 (office); Michael Ice, Supervisory Field Ranger, (760) 475-4896 (cell) or (760) 928-2069 (office)
No desert tortoise or desert tortoise burrow will be disturbed at any time. If a desert tortoise is encountered on the trail, care must be taken to avoid any contact. Desert tortoise sightings may be reported to visitor contact centers at Baker or Hole-in-the-Wall (date, time, location, size and condition of each animal).
Check under vehicles for desert tortoise before operating the vehicles.
When vehicles travel in a group, each vehicle will be spaced far enough apart to ensure visibility of the road surface to avoid desert tortoises.
All motorized vehicles shall remain on existing roads, designated routes and vehicle ways. No cross-country travel by motorized vehicles is permitted. Vehicle use is prohibited in wilderness areas.
All vehicles must carry current vehicle insurance.
State and federal laws prohibit driving while under the influence of drugs or alcohol and/or open containers in vehicles. All other state and Federal regulations will be followed.
All trash must be removed from the Preserve. All garbage, including food materials, must be carried out and disposed of in a proper manner.
No discharge of any wastewater from shower, kitchen/cooking or washing facilities.
Vehicle parking must occur on previously disturbed areas, destruction of any natural undisturbed areas, including vegetation, is not permitted.
Camping and vehicle parking must occur on previously disturbed areas; destruction of any vegetation or natural areas is not permitted.
Permittee must check with Mojave National Preserve regarding current fire hazard conditions prior to arrival in Mojave National Preserve. Information may be obtained at any visitor center. Kelso Depot Visitor Center, (760) 252-6108 Hole-in-the-Wall Visitor Center, (760) 928-2572 Barstow Headquarters Information Center, (760) 252-6101 21. No firewood collecting is allowed. All campfires must be in a pre-existing fire ring or self-contained unit with a metal bottom or fire pan. No evidence of a campfire should remain.
All litter must be brought out of the backcountry and deposited in designated receptacles. Human waste must be properly buried.
Spilling/discarding of any fuel/hazardous materials is prohibited.
Collecting of plants, animals or mineral specimens is prohibited.
Permission is required for travel on or across private property by appropriate land owner.
Sighting in of rifles or target shooting is not allowed in Mojave National Preserve.
Dogs must be on a leash at all times.
Collecting, digging or defacing of historic or prehistoric artifacts is prohibited.
The US Government, Department of the Interior, National Park Service, Mojave National Preserve will not be held liable for any injuries, damages or occurrences relating to the operation.
All participants will be made aware of stipulations stated in this permit.