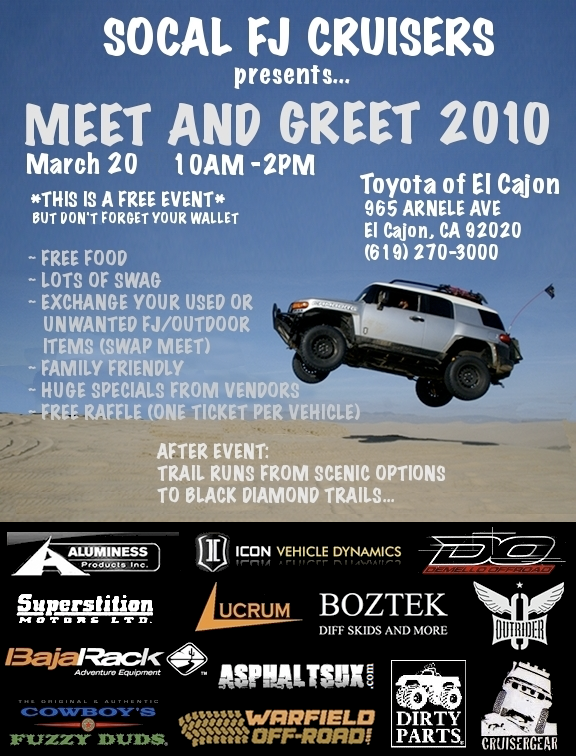 Also they have a great kids area inside, it has a huge pirate ship that they can play on, an interactive wall of pictures and sound buttons as well as a kids theatre so dont be afraid to bring the kiddos.
http://www.socalfjcruiserforums.com/for ... php?t=4463
Fixed
Camping & Trail Runs for the Toyota of El Cajon M&G Weekend
Friday the 19th
Saturday the 20th
Sunday the 21st
THIS IS ALSO GOING TO BE PART 1 OF MIKES GOING AWAY PARTY!!!
mikes busy with planning the actual event so lets start talking about the camping and trail runs. i'll update runs/participants on first post as needed.
Corral Canyon OHV/camp (off the I-8)
this ohv/camping area is about 40 minutes (or so) from Toyota of El Cajon. Campgrounds are first come first served (each campground has 20 sites). no fees. Adventure pass needed! Vault toilets, fire rings, 1 campground has water (corral canyon),
http://www.dirtopia.com/wiki/Corral_Canyon
trails in Corral Canyon include Bronco Peak, Bronco Peak Connector, and Sidewinder.
Bobcat meadows campground:
http://www.fs.fed.us/r5/cleveland/recre ... adow.shtml
Corral Canyon campground:
http://gis.fs.fed.us/r5/cleveland/recre ... nyon.shtml
CAMPING!!
Friday Only
Saturday Only
Friday & Saturday
chris
lynette
shelly
spert
serpico
bzwires (?)
leonie & boz (?)
anne & mark (?)
potatomutato (?)
TRAILS!!!
1. Easy - Bear Valley Road (off interstate 8 - on way to camping area)
(leader: Daniel aka RioDew aka Forum Horse)
An out and back with a good lunch spot at the end. Very scenic with 3 mountain peaks and 4x2 friendly.
2. Easy with harder side options- Otay Mesa Truck Trail (south bay)
(leader: lgTiny)
A very fun trail with optional side runs that can ran range from easy to more difficult, especially the waterfall.
3. Medium - Carvacre/Pancake Rock/Wisecarver/Little Moab
(led by FJ Ollie)
A great trail with great views, a bit more challenging and definitly scenic.
4. Difficult- Sidewinder (this trail is in the campground area)
(led by Randver)
a short but difficult trail , definately not for inexperienced drivers. body damage possible. recovery gear required.
participants: Chris
5. Black diamond- Bronco Peak (this trail is in the campground area)
(led by Funjunkie)
quoted from mike: "god only knows if we'll get up it, but we sure as hell are gonna try."
body damage likely, recovery gear mandatory, please only sign up for this run if you are experienced in rock crawling.