Trail: Rattlesnake Canyon & Heartbreak Ridge (Pontiac Loop)
Lead:
BorregoWrangler
Tail Gunner:
TBD
Comms Designee:
Difficulty:
Difficult
Meeting Time:
9:00AM
Meeting Place:
Coon Creek Cabin Campground
Departure Time:
9:30AM
CB Channel:
23
2M Simplex:
147.570
2M Repeater:
147.330+ (PL: 131.8)
Roster:
1. BorregoWrangler
2. salad_man
3. Ollie
4. Chazz Layne
5. Willie H
6.
7.
8.
9.
10.
11.
12.
TRAIL DESCRIPTION:
This remote trails passes through a non-wilderness corridor of the Bighorn Mountain Wilderness Area. The sometimes narrow, sandy, and often wet passage through Rattlesnake Canyon is susceptible to flash flood damage. Much of the route here is easy to moderate. Expect tight brush along sections of the trail.
Just before Burns Canyon is reached we'll turn west on 2N02 to 2N61Y towards Heartbreak Ridge. This difficult part of the route includes narrow canyons, steep shelf roads, large boulders and sharp rocks. Not super difficult but fairly tough. Some aggressive stock vehicles with good articulation might get through, but recovery-strap assistance may be necessary.
Backtracking out along 2N02 we'll head back to continue traveling down scenic Burns Canyon and exit the trail to paved Rimrock Road, which will take us past Pioneertown, built in 1946 as a movie set for many western movies.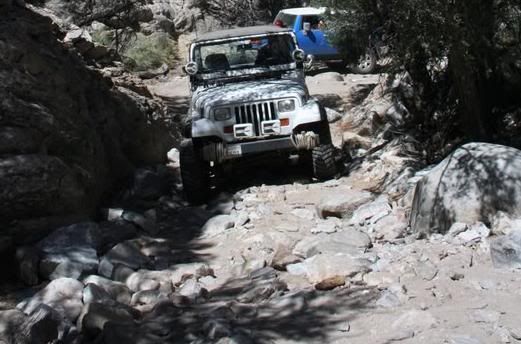 LOGISTICS:
This 30.6 mile route should take about 6 hours to complete. Starting point will be on Highway 247, 0.7 miles east of mile marker 27. We'll exit along Pioneertown Road to Yucca Valley and Highway 62. Heading south from here will take you to Interstate 10.
Route Overview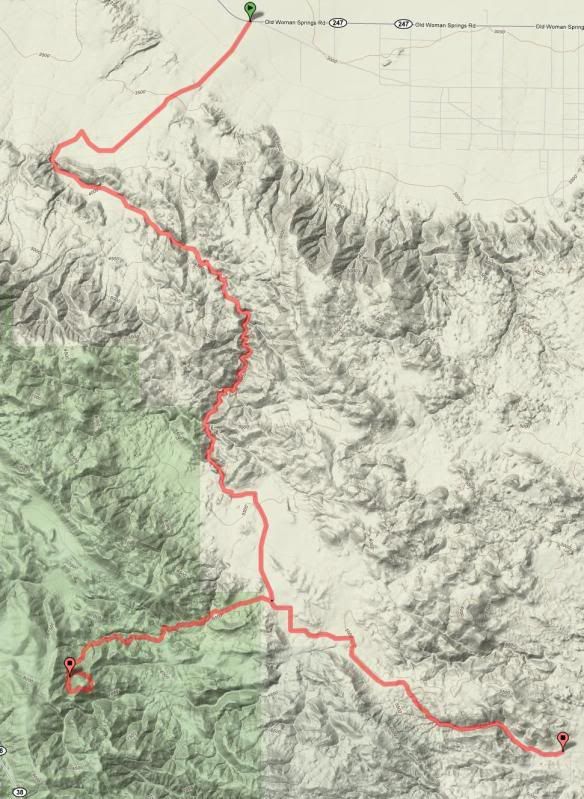 Driving directions to CA-247 S/Old Woman Springs Rd (Rattlesnake Canyon trail head.)
47.4 mi – 1 hour
Head east on CA-38 E toward Margaret Bundy Scott Rd 14.6 mi
Turn left at E Big Bear Blvd 1.4 mi
Turn right at Greenway Dr 0.6 mi
Turn right at CA-18 N/W North Shore Dr
Continue to follow CA-18 N 12.5 mi
Continue right onto Camp Rock Rd 4.9 mi
Turn right at CA-247 S/Old Woman Springs Rd 13.3 mi
Destination will be on the right 0.7 mi east of mile marker 27
Route to trail head.