Lost Ship of Pearls Run (Yuha Desert Exploration)
Lead:
BorregoWrangler
Tail Gunner:
TBD
Difficulty:
Easy to Moderate
Meeting Time:
10/24/2010 @ TBD
Meeting Place:
Stagecoach Trails Group Campsite
Departure Time:
10/24/2010 @ TBD
CB Channel:
4
2M Simplex:
147.510
2M Repeater:
Laguna Mtn. 147.150+ (PL: 107.2)
Signed Up:
1. BorregoWrangler
2. unwiredadventures
3. Chazz Layne
4. ralphie
5. SP Jon M3
6. OLLIE
7. jeff prince
8. CactusJK
9. ssc
10. burninchicken
11. The Viz
12. rpc
13. SanteeFJ
14. nickshammas
15. jdholder
16. Cammo
17. BigDave
18. Zam15
19. Wintermute
20.
The Lost Ship of Pearls
In the second half of the nineteenth century, thousands of migrants crossed the Colorado Desert of Southern California. Some survivors of this journey arrived with a story of a strange sighting- a Spanish galleon resting upright upon the sands of the great desert. Implausible as it sounds that there might be the wreck of an ocean-going ship 100 miles or more inland from either the Pacific or the Gulf of California, the story has persisted for centuries in reports from Indian peoples, Spanish explorers, prospectors, migrants and treasure hunters.
http://www.desertusa.com/mag03/may/ship.html
The winds of the desert are constantly changing the arid landscape, which is probably the reason that no expedition has ever successfully located the lost vessel. Perhaps one day a backcountry explorer will stumble across the decaying ship and claim its fortune.
Yuha Desert- Regulations & Information
The Yuha Desert of extreme Southern California is rich in both human and natural history. The area contains several unique attractions; the Juan Bautista de Anza National Historic Trail, geoglyphs created by Native Americans, an area of rare crucifixion thorns, oyster shell beds, and the Yuha Well. The Yuha Desert is an Area of Critical Environmental Concern and is a limited use area. Please observe all posted signs. Routes traverse a variety of terrain, from flat desert pavement to sandy washes, to mud hills and other badlands type features.
This is a Limited Use Area which means that motorized vehicle travel is allowed, but that it is limited to approved routes of travel. This includes all roads and trails at least two feet wide that show significant evidence of prior vehicle use, and also washed with a bed wide enough for passage of your vehicle without damage to the wash bank or vegetation. All routes of travel which fit this definition are approved for use unless specifically posted as "Closed." The U.S. Border Patrol has a strong presence in the area so we can expect them to check up on us at some point during the run.
The shooting or discharging of firearms is generally permitted on any BLM managed lands, as long as such activity is permitted by State and local laws. Visitor's may collect up to five gallons of fossilized invertebrate. Commercial collectors must obtain a collection permit. All Native American sites and artifacts are part of our shared cultural heritage and protected by federal law. Report any looting immediately to the BLM.
On September 10th, 1976 hurricane Kathleen caused widespread flooding and damage in this area. Flooding caused catastrophic destruction to Ocotillo. Because Ocotillo is situated atop an alluvial fan, the path of the raging floodwaters was wide and changing, with over half of the town being totally destroyed. The waters piled a layer of sand that was 10 feet (3.0 m) high in some places. Three to six people drowned in the mud and waters in that city. Other parts of Imperial County and Riverside County experienced severe flash flooding. Kathleen's highest rainfall was 14.76 inches in Mt. San Gorgonio. Agriculture was disrupted throughout the area and the area covered by the Salton Sea increased.
Flooded Ocotillo
Flooding disrupted transportation routes in the county. Part of Interstate 8 along the San Diego and Imperial County border was washed out. Three trestles belonging to the San Diego and Arizona Eastern Railway were destroyed, and five others were damaged. At more than 50 other locations, tracks were buried by mudslides or had the ground under them washed away. After assessing the damage from Kathleen, the Southern Pacific Transportation Company decided in 1977 to abandon most of the SD&AE railway, but in 1978 the Interstate Commerce Commission disallowed this plan and the railway was restored.
Distance from campgrounds to the trail head is 43 miles.
Route Overview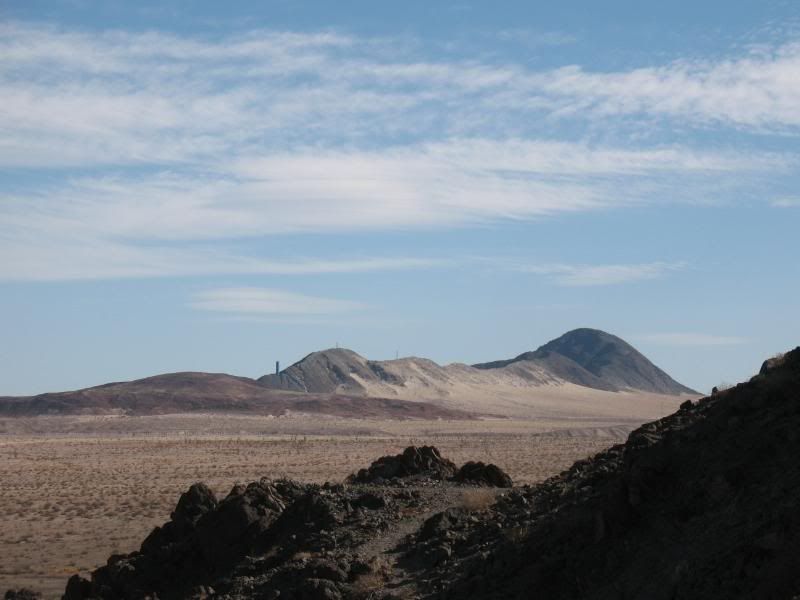 "Since the 1800's, government and commercial dreamers have proferred the notion of a canal for ocean-going vessels to connect the Sea of Cortez with the Yuha Desert at the very point where Pinto Wash crosses Hwy 98. In 1967 a bi-national commission proposed a canal 300 feet wide and 75 feet deep, connecting sea-level Laguna Salada with Pinto Wash via locks through the international border. A local elected board is currently promoting a similar concept. (The lost Spanish galleon of the desert sails again! Or is it those wayward Vikings?)" -Lowell & Diana Lindsay: The Anza-Borrego Desert Region