I spent Friday helping my brother, KN6VL, with some much needed tower maintenance. We had been discussing doing this for quite a while and finally came to the conclusion that the best and safest way to go about it would be to rent a boom lift. It was definitely a new experience since neither of us had used one before. Fortunately, the rental company had to deliver it Thursday afternoon even though it was only rented for Friday. It gave us some time to familiarise ourselves with the lift. There was a strong wind all day on Thursday. Operating the lift in the wind was very disconcerting especially for someone like myself who does not like heights. Fortunately, there was no wind on Friday which made it much easier to work at the very top of the antenna stack.
The work for the day started with swapping out the top most 2m/70cm vertical antenna with a tri-band 6m/2m/70cm antenna. It was a little tricky threading the platform up through the elements of the HF antenna and avoiding the horizontally polarised 2m and 70cm antennas. Thank goodness the wind wasn't blowing. In addition to replacing the vertical antenna most of the zip ties needed to be replaced, the thrust bearing needed lubrication, the umbilical cable was off of one of the support arms and needed to be rehung and secured, and the support arms required repainting.
The first hour working on the tower was a little nerve racking getting used to the height and the motion of the platform. Once I built up confidence that the boom wasn't going to tip over at the slightest movement things went much better. By the end of the day I was very confident operating the boom.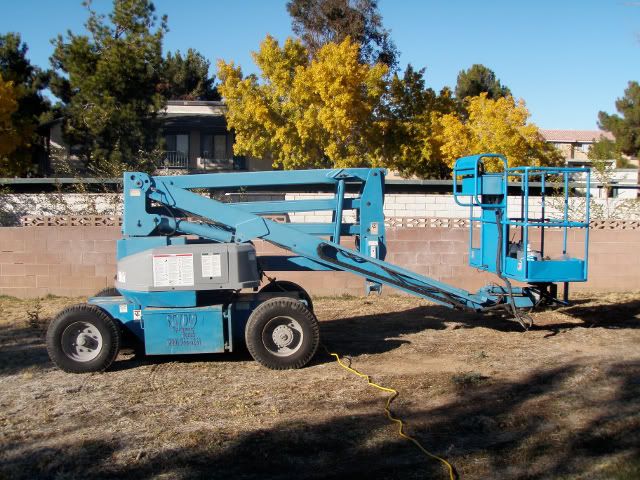 Here is the boom lift.
Removing the vertical antenna.
The antenna is removed! I zip tied it to the platform until I was ready to lower the lift.
Installing the new antenna.
Many of the original zip ties had broken leaving the antenna cables dangling.
The zip ties were replaced with new UV stabilised zip ties and then they were covered with rescue tape. This was recommended by a mutual friend who has does exterior antenna installations as part of his work. It will be interesting to see how these hold up to exposure to the high desert sun and high winds.
The vertical and 70cm cables secured.
The finished job. The umbilical cables are now properly draped over the cable arms which manage the cables when the tower is raised and lowered. The next time we do maintenance we plan to clean up the lightening arrestors and protect them better from the elements.
Our conclusion was the it was well worth the cost of renting the boom lift and that we won't wait so long next time to work on the tower.