Here are some pictures of the dual Diamond K9000 motor drive mount installation on my Pinzgauer. I rewired both mounts to operate from a single DPDT Momentary Center Off switch mounted in a custom overhead console. Both antennas may be quickly lowered to clear overhead obstacles by hitting a single switch. This is important in the Pinzgaer as it's already over 7' tall without the antennas and in some areas I've run into lots of overhanging branches which most Jeeps clear. The center mounted antenna is a 2m 70cm dual band and the white antenna mounted just behind the drivers door is the obligatory "11m" antenna. The mount powered by 12 volt power provided by a 24 volt to 12 volt DC to DC converter.
The K9000 mount may be mounted directly to any flat surface utilizing the 4 screws in the bottom of the motor drive unit. I used an aluminum plate in place of the large antenna mount standard on most Swiss army Pinzgauers. The NMO mount and feed line is the one recommended by Diamond for use with the K9000.
For the CB antenna I used 1/2 of the K9000 roof rack clamp mounted directly to the front roll bar. This same set up could be used on any vertical or angled surface. I improvised my own 3/8" thread mount with some extra CB antenna mount parts I had laying around.
I haven't done any serious off roading with this set up yet but so far it's held up with no problems.
The single switch to the left of the switch plate controls the K9000 antenna mounts.
Antennas up.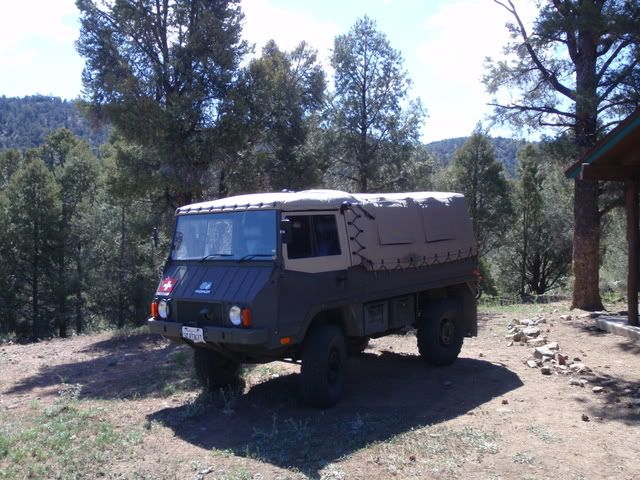 Antennas down.
Close up of center mounted dual band antenna raised.
Close up of center mounted dual band antenna lowered.