Lower Coyote Canyon BorregoFest 2013 Run: Sunday, October 20th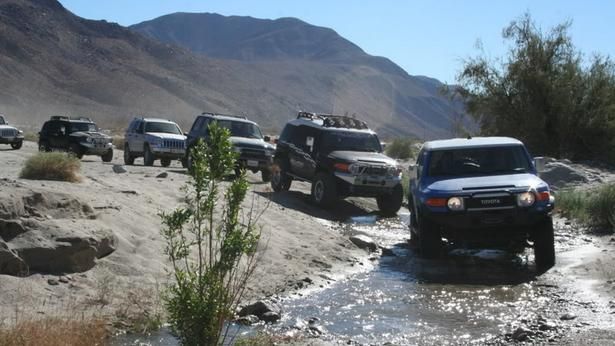 UPDATE FROM PARK HEADQUARTERS: IMPORTANT NOTICE
The road into Lower Coyote Canyon was badly damaged during summer rainstorms, and will not open until mid-October or later. The road into Upper Coyote Canyon should open as scheduled October 1. Horse Camp should open October 1, but the road to Horse Camp has soft sand, and four-wheel-drive is recommended. We appreciate your patience as we work to repair these roads.
The trail should be open by BorregoFest. I'll keep everyone updated.
Lead:
BorregoWrangler
Tail Gunner:
TBD
Difficulty:
Easy/Moderate
Meeting Time:
TBD
Meeting Place:
OAUSA Camp Headquarters
Departure Time:
TBD After HAM testing and raffle.
CB Channel:
32
2M Simplex:
147.510
2M Repeater
: TBD
Mileage:
9.5 miles one-way to Sheep Canyon campground
Travel Time:
3-4 Hours
Campsite to Trail Head:
36.7 miles & 55 min.
(If needed we can stop for gas in Borrego Springs on our way to the trail.)
Signed Up:
1. BorregoWrangler
2. Wintermute
3. dlichterman
4. NotAMog
5. xbox73
6. monark192
7. PIC4GOD
8. Chazz Layne
9. lehn20
10. jack
11. SteeevO
Route Description, Points of Interest, & History:
Lower Coyote Canyon Trail travels up the canyon wash, passing close to a campsite of the second Juan Buatista de Anza expedition in 1775. Hand-dug wells produced enough water for nearly 800 head of stock and more than 200 people. The expedition, from Tubac in what was then Sonora, Mexico (now part of Arizona) would take five and a half months to reach Alta California. Juan Bautista de Anza first passed through the Borrego Valley in March 1774, on his first route-finding mission to the new Spanish settlements in California. Santa Catarina Springs was their campsite on March 14, 1774.
Coyote Canyon runs from Anza to Borrego Springs and offers two separate vehicle trails, one from the north and one from the south. Of the two, the southern approach is more popular with hikers and four-wheelers. For eight months of the year, hikers, horses, and mountain bikers can connect the two trails via a 3-mile section of the canyon between Middle and Upper Willows. Between June 1 and September 30 each year, Coyote Canyon is closed to all users to protect water sources for the rare peninsular bighorn sheep. A seasonal closure gate after Second Crossing restricts users during this time.
The lower trail leaves from Borrego Springs to the north, passing the historical marker commemorating Sebastian Tarabal. It passes the graded road to Vern Whitaker Horse Camp before leaving the citrus groves behind and entering Anza-Borrego Desert State Park up a formed, sandy trail. There are three crossings of Coyote Creek; the first is usually dry, the others normally have year-round water that may be up to 24 inches deep.
The difficult stretch of trail comes a short distance after Third Crossing. The trail ascends a steep, rocky pinch that consists of loose, fist-size rocks and large embedded boulders. Careful wheel placement is needed to keep the undercarriage off the rocks. With an experienced driver at the wheel and a bit of care, most stock SUVs will make the ascent. Once at the saddle, looking north into Collins Valley, the difficult part of the trail is over–although you do have to return the way you came. The trail reverts to a smooth, sandy surface as it descends into Collins Valley.