Thank Ken.
_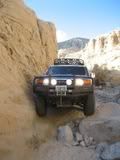 _
---
Bobo, I didn't mean to be hard on ya. It's just that I do troubleshooting for a living and I know how hard it is to troubleshoot a problem without sufficient info.
-Craig
N6CJW
'07 FJ Voodoo Blue MT6 CQ UR GY
Mods: 3" OME coilover lift, Trail-Gear sliders, All Pro Skids, Bandi Mount,
Midland 75-822 CB, Yaesu FT-8800R, Lowrance XOG, K&N Air Filter, Baja Rack & Ladder, BFG 285/70R17 AT KO
"Show me a 4X4 that's never seen dirt and I'll show you a poser"
---
Posts: 404
Joined: Wed May 07, 2008 11:12 pm
Location: Ramona, CA (in the hills of san diego)
gon2srf wrote:Thank Ken.
thanks ken
craig: its all good! not to worry!!!!!
G-4!!!!
Trail Mom
---
Who is online
Users browsing this forum: No registered users and 1 guest