I have been missing grilling when camping and off roading the past few years. Previously when car camping, I always used a table top propane grill but with off roading and especially motorcycling there isn't always room. The propane grills always had the problem of being difficult to completely clean and had a lingering ordor of cooked food (actually burnt grease).
I've been looking for something to use that was compact, lightweight and easy to clean. Last year at the Overland Expo I saw the Slat Grill on display. I liked the design but thought they were too pricey for what you get. This year after getting my tax return I decided to spring for one to use on trips I have planned. I usually get some new piece of camping kit with my tax return (I'm not a very good student of Suzy Orman). Since my motorcycle panniers are almost always over filled to begin with, I opted for the titanium version to save some weight.
One way to justify the expense for an item like this is to determine how long it will take to amortize the cost given the other options available. When motorcycling the other option for grilled food is to eat out. I know there are freeze dried meals available but I've found most of them to be too salty for my taste. Anyway, I figured it would take about 15 to 20 uses to pay for itself. That's a little long but I'll be getting better meals along the way and the Slatgrill also doubles as a wind break for my backpacking stove.
The grill comes packed in a zippered pouch measuring approximately 12"x7"x1". There is a heavy eyelet in one corner to make it easy to attach the pouch to the outside of a backpack.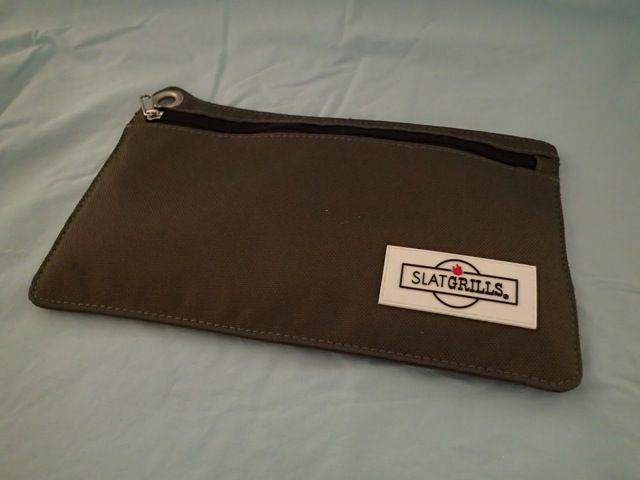 Here is what you will find in the pouch, A bag with the grill slats. There are also 6 optional skewers shown in the bag, A bag with the sides, and a cloth bag containing the lifting chains.
This is a picture of all the pieces for the Slat Grill laid out individually.
Here is the assembled Slat Grill. On the titanium model one end of the slats is pointed so they can double as skewers if you're really into saving weigth. The drawback is that there is very little to grab onto to turn your food. The chains allow you to move the Slat Grill on and off the fire without concern that the grill will come apart. The cooking surface is approximately 9"x9". This is certainly not big enough for a group but usable for 1 or 2 people.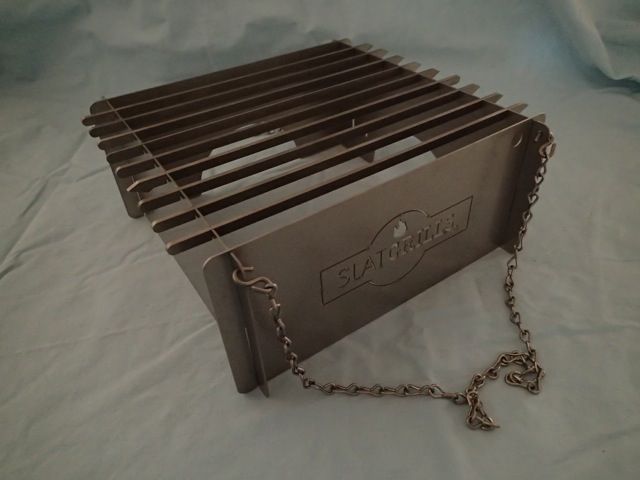 This picture shows the Slat Grill with 3 skewers. The instructions say you should keep on slat one each end for stability. There is only room for 3 skewers at a time. By having extra skewers you can have a set loaded up with food ready to go on the grill when the first set is finished. The skewers are designed so that they won't rotate on the grill. They need to be lifted our of the slots to turn. This is good because you can turn your food over and not need to worry about the heavy side always facing down.
I've been trying the grill with 9 charcoal briquettes in a shallow tray made from heavy duty aluminum foil. 15 may work better to get a hotter fire. An advantage of using the foil tray is that its easily closed up to dispose the ashes once the fire is burned out.
You do need to be careful where you place the Slat Grill. The piece of wood under the grill got chared even with an extra foil under the tray and stove. (Lesson 1, don't use on a picnic table without better insulation)
Here are a couple of chicken breasts cooking on the Slat Grill to give you an idea of the size of the cooking surface.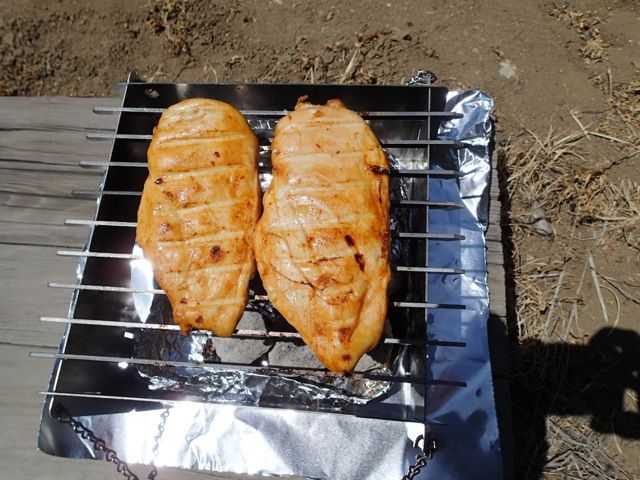 This picture shows some chicken kebabs and potatoes on the grill. The potatoes were started earlier and moved to a cooler portion of the grill while the chicken was cooking. Having deliberately uneven heat can be useful for keeping food warm until everything is done.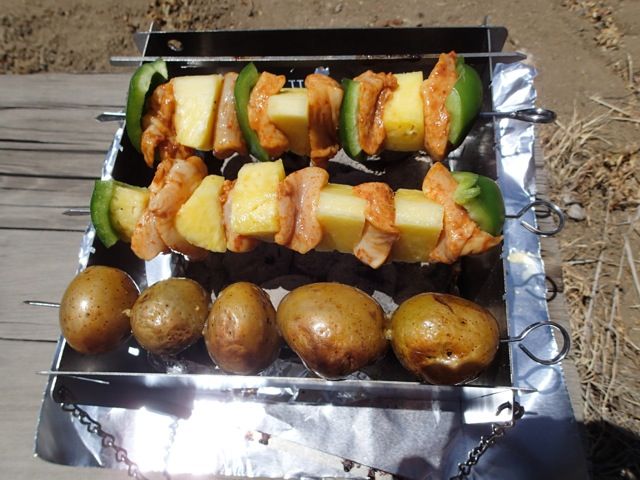 The Slat Grill can also be used as a wind break around a backpacking stove. This is an advantage when backpacking or motorcycle camping where it can serve a dual purpose.
In conclusion here are the pros and cons of the Slat Grill:
Pros:
Packs very small
Light weight
Easy to clean with normal camping supplies
Versatile, use as a grill, with skewers, and can double as a stove windbreak
Multiple slat grills can be connected together for a larger cooking surface
Thorough cleaning avoids odors that can smell up your rig and attract wild life
Made in the USA
Cons:
Expensive
Small cooking surface
No lip to keep hot dogs or sausages from rolling off the grill
You still have to deal with charcoal, campfire coals, or other fuel
The Slat Grill is not for everyone but if you're looking for a very compact lightweight grill to use when space and weight are at a premium you should definitely consider a Slat Grill.
Here is the Slat Grill website -
http://www.slatgrills.com/