W6RIP
Early Check In
Started Sota in 2018
SOTA Region Manager of W6/Southern Sierra
Sworn Member on the San Gorgonio Search and Rescue Team in San Bernardino County
Summits on the Air.
What is SOTA?
Summits on the Air (SOTA) is an award scheme for radio amateurs and shortwave listeners that encourages portable operation in mountainous areas.
SOTA is fully operational in nearly a hundred countries across the world. Each country has its own Association which defines the recognized SOTA summits within that Association. Each summit earns the activators and chasers a score which is related to the height of the summit. Certificates are available for various scores, leading to the prestigious "Mountain Goat" and "Shack Sloth" trophies. An Honor Roll for Activators and Chasers is maintained at the SOTA online database.
Why SOTA? #optoutside
Hiking or sauntering, freshest of air, felt energy that few know about, peace of mind and stress, overall health gains, personal challenges, efficiency of gear use on portable emergency communications.
For SOTA practitioners, Field Day is everyday.
SOTA goals and challenges are personal, honorable and trustworthy.
The game is teamwork. It takes 2 to make a contact so both sides are necessary to complete the mission.
Modes
- All modes all bands including digital, simplex only, no repeaters, except satellites ok.
Activators
- get to mountain tops. Get 4 contacts at minimum. Good rule to get a few more.
Chasers
- listen for the call and answer
Shortwave Listeners
can also participate by logging the entire qso of the activator and chaser.
Summits
- Qualifying Summits are listed in the Association Reference Manual (ARM). Stamp your callsign on the Summit if you are the first activator. Summits with zero activation's are usually for a reason.
Summit to Summit
- Activator to Activator, Peak to Peak.
Summits are scored by elevation
- 2000ft = 2pts and 8000ft= 8 pts and over 10000ft = 10pts.
Winter or Summer bonus points
- Snow or Heat = 3 bonus pts.
Tips
- Sota during contests are fun. More people on the radio. Longest contacts on these days. Turn your phone to airplane mode to conserve battery life. Always bring a headlamp or light.

https://www.sota.org.uk/
https://sotawatch.sota.org.uk/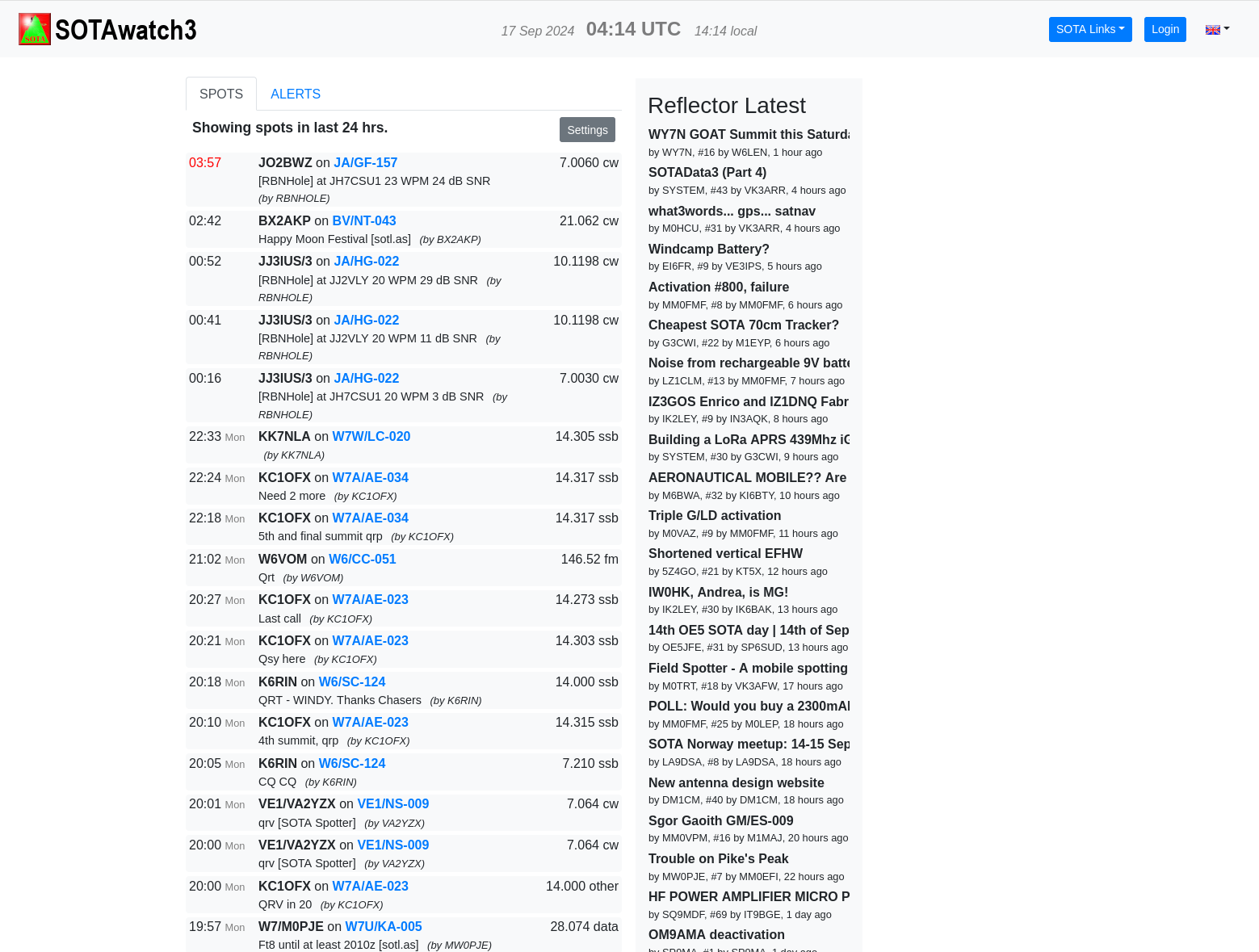 https://www.sotadata.org.uk/en/
https://summits.sota.org.uk/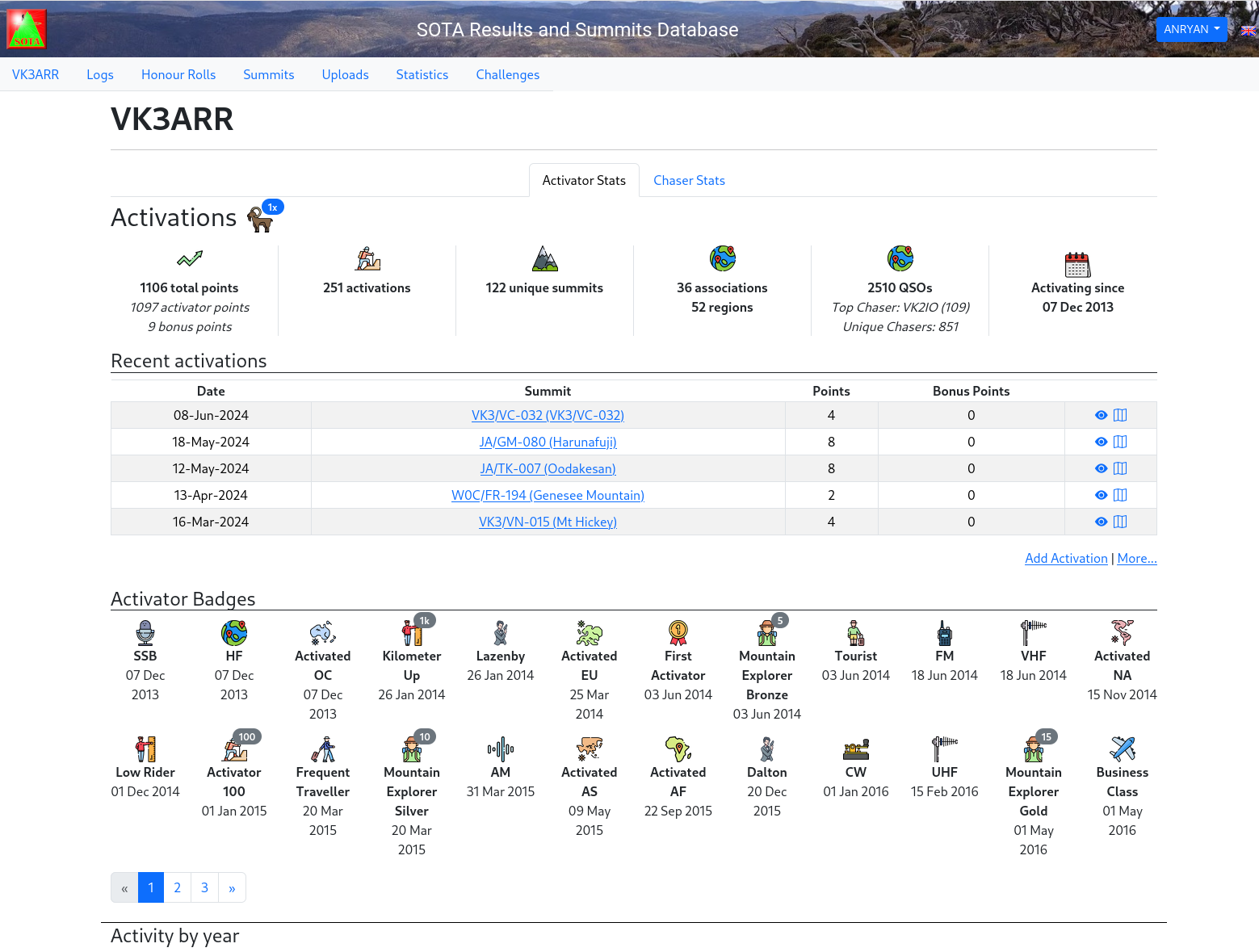 https://www.sotamaps.org/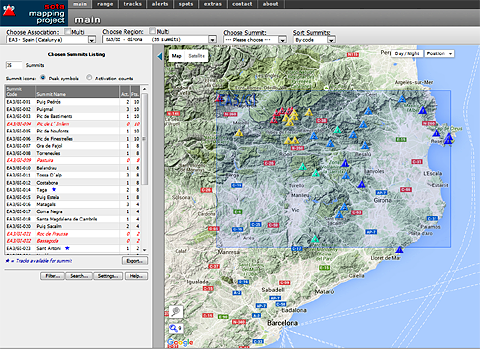 https://reflector.sota.org.uk/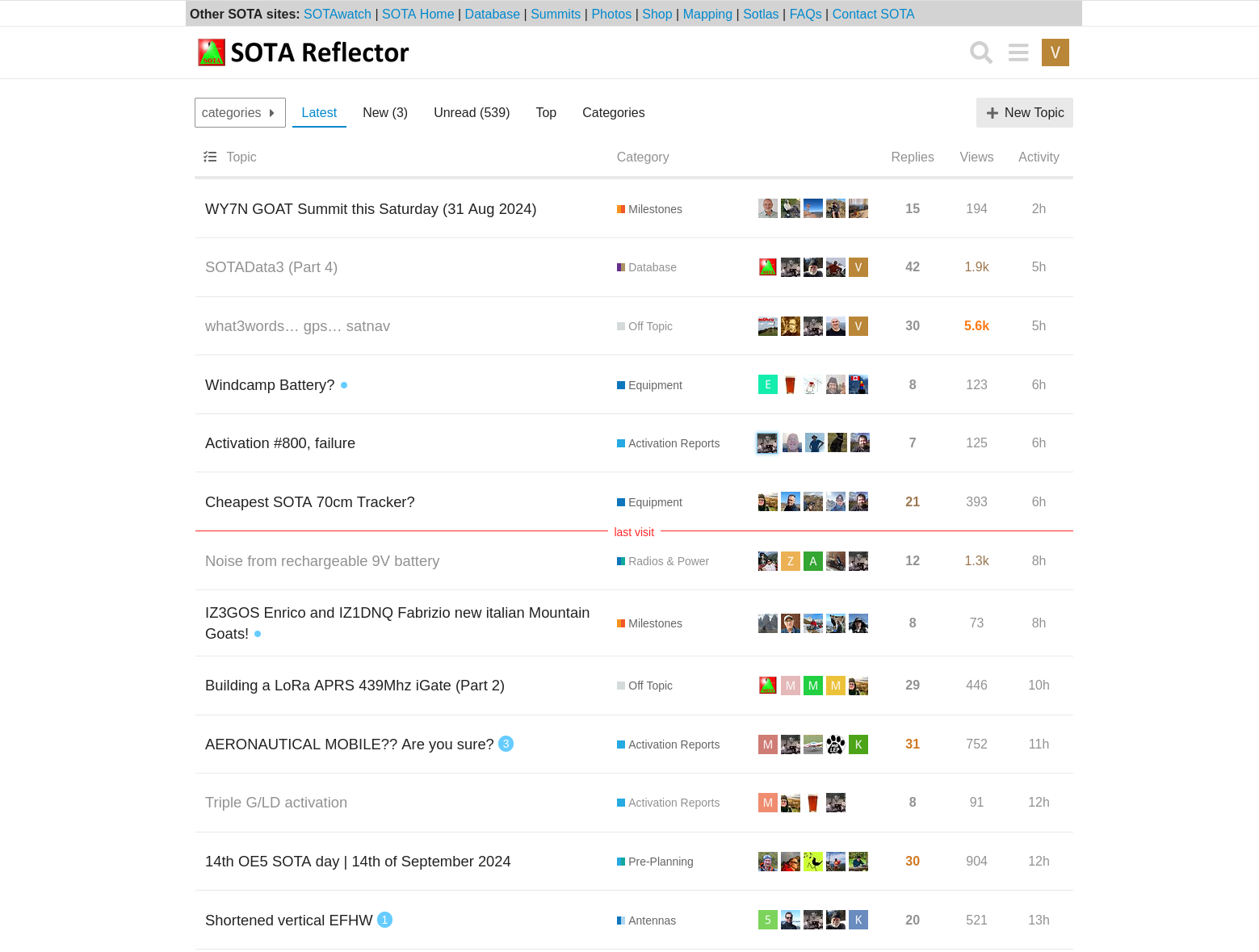 Some of the things we will touch base on:
Introduction
- Up top
Awards
- Mountain Goat for Activators and Shack Sloth for chasers @ 1000 pts. Among many others.
Find your own level
- Many mountains for all skill levels. Just finish the hike under your own power on your feet or un-motorized bike.
The Weather
- Never forget to check the weather conditions for proper gear use.
Walking gear
- Proper clothing, footwear, pack (22-40 liter), items like emergency kits & snack rations and navigational tools. 10 essentials.
Map and Compass knowledge. Water- plan water intake and resupply.
Mapping and Planning
- Sota mapping site for selecting, Gaia gps for navagation (use in airplane mode), sota peak info page and peak bagger
for beta on hikes.
Experience
- If new, find a hiking partner and educate yourself. Do your homework. Lots of beta out there on peaks.
At the summit
- Make yourself comfortable and enjoy. The summit rules include 75ft below the high point for a good activation. Expect
people, questions and confusion. This is the worst spot to realize you forgot something.
Radio kit
- Radio, battery, adapters in a nice lightweight transport case. Good is 4-5lbs
Dualband HT
- you will be amazed at what an HT can do at elevation. Especially with a roll up J-pole the weights 6oz.
VHF SSB & Beam
- great antennas for technicians activating with VHF
CW
- the most widely used mode for SOTA. Smallest and lightest of equipment needed this mode.
Power supply
- Lithium iron phosphate is a great one. Bioenno power
Rigs
- KX2-3, Yaesu FT-817, 818, 891, 857
Antennas and deployment
- wires, verticals, beams, loops, Chameleon MPAS, Sotabeams. Practice in a park or backyard first.
Antenna support
- find something light and sturdy. Asian fishing rods work well. Cordage, stakes, zipties and duct tape.
What to expect on the Summit
- weather, people with questions, confusion, frustration, repeaters
Chasers, logging & spotting
- sotawatch 3, hamlog app for logging, app- sota spotter on android, app- sota goat on apple. Can also use sms
text, aprs and Garmin devices to spot.
Alerting
- Alerting is ahead of time. Spotting is while on the peak ready to go. All apps can alert and spots.
Frequencies & the Reflector
- Pick your frequency the way you know how. Calling frequencies are great when searching for listeners.
The Exchange
- Call-signs, signal reports and short qso if you want with a 73. Simple, quick and sweet.
Finally:
Two words of warning. It's addictive!
Break for KI6NAZ- gear recommendations, hacks and summit selection.
Activator Guidelines:
https://sotastore.blob.core.windows.net ... elines.pdf
General Rules:
https://sotastore.blob.core.windows.net ... l-2015.pdf
Wilderness Protocol
- Simplified version by me W6RIP
https://youtu.be/W-zus3yBw94
In depth version by Jerry KG6HQD
https://youtu.be/OoXMeD8ngEQ
My 3 ways to stay in touch from the wilderness
Phone, Ham radio, Garmin inreach
https://youtu.be/DK15cvuABSw
YouTube video on How Ham Radio saved a life by KM6TWI
https://youtu.be/J59TR4igwTY
Great Resources:
https://smile.amazon.com/Mountaineering ... 200&sr=8-1
N1CLC put together a great YouTube series called "SOTA 360". The name says it all.
https://www.youtube.com/playlist?list=P ... gyir6HMhm4
Great YouTube Channels to motivate, learn, teach, create and inspire you to get on the Air outdoors:
KG6HQD
https://www.youtube.com/channel/UCFupjn ... Gl3NWjkSaQ
W6RIP Radio Adventures
https://www.youtube.com/user/11DayScrape
Ham Radio Crash Course
https://www.youtube.com/user/hoshnasi
K6ARK Portable Radio
https://www.youtube.com/user/Vector511c
Steve wG0AT
https://www.youtube.com/user/goathiker
Christian Claborne N1CLC
https://www.youtube.com/user/jimdouganx
KB1HQS
https://www.youtube.com/channel/UCSkFZt ... 3xNxUANFVw
Punk Rock Hiking KM6TWI
https://www.youtube.com/channel/UCxwJgZ ... Ed2GLqRHIA