---
Why not use something like a Jerry Can?
As discussed the tried and true Jerry Can and newer RotoPax system provide an inexpensive and fairly easy way to carry the extra fuel needed on most overland and back country trips. However, there are some negative issues with this type of system, specifically:
Jerry cans and RotoPax containers can be easily stolen if not carefully secured.
It's more difficult to secure the fuel even if the container is locked down.
If carried on the roof rack, a common practice, they have the following potential problems;


Raising the center of gravity by adding a lot of weight to the top of the vehicle (two full Jerry cans can easily add 80-90 pounds to the roof rack).

If mounted upright they increase wind resistance and the cans are more vulnerable to overhead obstructions (i.e. tree limbs, rock overhangs, etc.)

If laid down on the roof rack there is always the potential for fuel leaks, as the Jerry can filler openings are not always very dependable as far as the seals are concerned and the risk of gas leaking all over your vehicle is real.

Getting too the fuel can be a bit of a hassle; undoing and then redoing straps and a full 5 gallon Jerry can typically weights around 40 pounds.
If mounted on the back, commonly on a tire carrier system, they put the weight well behind the rear axle and are more vulnerable to damage in a rear-end collision.
Internal Auxiliary Fuel Tanks
An internal auxiliary fuel tank is a permanently mounted tank. These systems can directly, or indirectly, supply fuel to your engine, by switching between the main tank and the aux tank, or by pumping fuel from an aux tank into your main (typically factory) fuel tank.
The advantages of a true auxiliary fuel tank are security, the tanks cannot realistically be stolen and the fuel in them is no more vulnerable to theft than that in your stock tank. Using the fuel in the aux tank is typically a matter of turning a valve or flipping a switch, and the tanks are more protected, from damage or theft, than external Jerry cans or RotoPax type containers. A potential disadvantage is a tank like this may lower your ground clearance a little, you'll want to check with the manufacturer to see if this will be an issue.
The Long Range America Jeep (and many other 4WD vehicle) tanks work in this fashion. In the Jeep Wrangler (2 or 4 door) the auxiliary tank is mounted under the body inside the frame rails, in front of the rear axle, and automatically fills when you fill the main tank. There is a gauge so you can tell how much fuel is in the aux tank and a pump switch so you can transfer fuel from the Long Range America auxiliary tank to your stock gas tank.
By using the factory gas tank your regular gas gauge works as do the air quality and vapor capture systems. Additionally the tank is protected by the frame of the vehicle providing a level of protection comparable to the factory tank. The Long Range America Jeep tank holds about 12 gallons giving the typical Jeep about 30 to 34 gallons of usable fuel and a significant increase in range.
As you can see in the photo the tank comes as a kit and does require a knowledgeable person to install. The instructions are good but this is probably not for the shade tree mechanic. The tanks are made in Australia by certified craftsmen in a family-owned factory in its third decade of operation. The tank kit is not inexpensive, running about $2,100 but Long Range America does offer a 10% discount to vets and first responders.
If your vehicle has an under frame spare tire you may be able to relocate the spare to the rear of the vehicle and use that space for an auxiliary fuel tank. LRA has many options and you can check out their web site to see if they have something for your specific vehicle. For more information or to see if they have a system for your vehicle check out their web site at:
https://longrangeamerica.com/vehicle/je ... 2012-2018/
Permanently Mounted External fuel containers.
Another alternative to a temporary fuel can like a Jerry Can or RotoPax is a permanently mounted external fuel carrier. There are two that I know of, one made by AEV (American Expedition Vehicles) and another by Titan XXL Fuel Tanks. The AEV system is a very nice 10 gallon tank but only works with the AEV rear tire carrier and bumper. The Titan Tank system works with stock Jeep tire carriers as well as many third party aftermarket tire carriers.
AEV
As AEV notes on their web site (
https://www.aev-conversions.com/product/fuel-caddy/
): "Made of tough cross-link polyethylene, the same materials as many factory fuel tanks, the ingenious design of AEV's Fuel Caddy seamlessly integrates with the AEV Tire Carrier and takes full advantage of the unused space both inside the wheel of the spare tire and just behind it. The result is 10.2 gallons of secure and nearly invisible fuel storage. The high mounting position isolates the Fuel Caddy from trail impacts and makes it ideally suited for gravity fed deployment into the main tank. A fully vented, OE-quality cap means radical changes in elevation are no problem and fill-ups are fast. A built-in step allows for easy access to roof racks. Will accommodate up to a 37" tire.
KEY FEATURES:
• 10.2 gallons
• Cross-link polyethylene
• Fully vented OE-quality cap with large fill opening
• High mounting position isolates the Fuel Caddy from trail impacts
• Built-in foot step on upper right side allows easier access to roof racks
• Comes with a convenient shaker siphon for easy fuel retrieval
• PLEASE NOTE: INSTALLATION OF THE FUEL CADDY REQUIRES THE USE OF A 17″ WHEEL OR LARGER.
• AEV fuel Tank:
• 2007-2018 JK Wrangler with AEV Tire Carrier. Fitment: Wheels 17" and Larger ONLY 16" Will Not Fit.
• Manufactured In: United States
• FUEL CADDY PRICE $350.00"
Titan Fuel Tank
Another option for a permanently mounted external tank is make by Titan (
https://titanfueltanks.com/products/tra ... ii-4040287
). The Titan tank will work with the stock Jeep rear tire mount and many 3rd party after market tire carrier systems. You should check with the factories excellent technical support people to see if the tank will fit your vehicle and tire carrier (800-728-4982). Titan makes a number of different fuel tanks for trucks as well as 4WD vehicles and they have mounts that fit 5" bolt stud patterns, as well as 6" and 8" wheels. The tank kit comes with high-strength steel bracketry, fasteners, and accessories for an easy DYI mounting on your vehicle. I've found that the tank mounting position keeps it out of the way and makes the transfer of fuel to the vehicle's main tank, via the siphon provided, pretty easy. The Trail Trekker II™ will handle 15" and larger wheels, and tires up to 37".
The tank is made from Military Grade, cross-Linked Polymer and is backed by a Lifetime Warranty. I used one of these tanks for over a year, sold it to a friend when I got the internal tank. My friend is still using Titan tank and finds it to be a tough, durable and secure system. The tank is fully grounded and vented with rollover protection and has the following features:
• 12 gallon capacity
• Fits all stock Jeep and many aftermarket tire carriers
• Models to fit 5, 6 and 8 lug patterns (Jeep, Toyota, etc.)
• Tank is fully grounded
• Lifetime Warranty
• FREE 2 gpm Shaker Siphon included and
• cost is about $400
Advantages of internal and fixed auxiliary fuel tanks
There are several real advantages the fuel storage systems described here have over Jerry Cans or RotoPax type systems.
Range: In a Jeep you can realistically carry about 40 gallons of fuel (with both the LRA and AEV or Titan tanks combination), in a Land Cruiser 200 series it's maybe 70 gallons. In a petrol powered Jeep you'll probably get about 15 mpg in 2 or 4 wheel high and about 6-8 in 4 low. Figuring about 10 mpg average that's still about 400 miles (650k) between fill-ups. With the new Jeep diesels which average say 20 mpg that's 800 or more miles (roughly 1,300 kilometres). That kind of distance is getting to be real expedition level distances.

Security: As previously mentioned all these systems are much more protected from theft than externally stored Jerry cans or RotoPax systems.

Safety: While Jerry Cans and RotoPax systems are well made they are more vulnerable to damage and leakage in an accident or roll-over situation. Jerry Cans stored on the roof are extremely likely to be severally damaged in a full roll-over with a higher risk of fire or even explosion from broken cans and leaking gasoline and storing gasoline inside a vehicle is a really, really, bad idea for lots of reasons.

Costs: While the Long Range America tanks are expensive the ability to "stock-up" on less expensive fuel can make a big difference over time. For example in a Jeep with the LRA tank and an AEV or Titan tank you can hold approximately 40 gallons. Currently in LA fuel is about $3.50 to $4.00 per gallon. In Las Vegas you can get fuel for about $2.75 per gallon. Let's say, on average, you can save $0.75 per gallon. For a 40 gallon fill that can be $30+. At remote gas stations fuel can be a lot more but putting that aside you can easily save $100 to $150 or more on any kind of longer distance trip. Over the life of the vehicle that can make a huge difference in total fuel costs.

Peace-of-mind: When we're in the back country or even heading back to civilization and the fuel starts getting low it can pretty much dominate your thinking and greatly increase stress. Knowing you have the range you need to get where you need to go can help make the trip a lot more relaxing and enjoyable.
Caution and disclaimers for any external tank:
External types of tanks are intended for temporary storage only. When full an AEV or Titan tank weighs approximately 100 lbs (45 kg), check with the respective manufacturer for exact weight in your application. A single full 5 gallon Jerry can weights about 40 pounds. It is the user's responsibility to ensure the mounting point(s) on the vehicle are sufficient for the weight. Remember dynamic loads can be much higher than the static load and the effective weight when bouncing around on a 4WD trip can easily be 50% or more greater than the static load.
Permanently mounted external tanks must be properly grounded at all times (see and follow installation instructions). When transferring fuel out of the tank always use a proper siphon pump. Never siphon fuel by mouth. Store only in a well ventilated area. Use out-doors only. Always wear eye protection when filling or transferring fuel in any type of external tank. In short ALWAYS treat any type of external fuel system with respect and caution. Especially gasoline fumes are very flammable and are harmful to breathe so only use in well ventilated areas under controlled conditions.
Last edited by
rlamishaw
on Thu Apr 08, 2021 1:11 pm, edited 5 times in total.
---
How NOT to Carry Fuel
Three years ago some of us went on a 10-day trip to Grand Canyon - Parashant National Monument. The planned route was as shown below, with gas available at the start in Mesquite, NV, and at the end in Colorado City, AZ, with possible availability about 3/4 through the trip at the
Bar 10 Ranch
. I carefully calculated that the trip would take up to 30 extra gallons, starting with a fill-up at Mesquite, NV.
Driving a stock Toyota Sequoia, I didn't have any external points for attaching gas can carriers, so we ended up driving a mobile IED (Improvised Explosive Device) throughout the trip. The Wavian cans worked very well. There was no fuel smell inside the vehicle. I put blue closed cell foam sheets between the cans to eliminate rattling and rubbing.
I ended up using all 30 gallons. I was happy to have
standard flexible spouts
that I purchased separately as opposed to the CARB-compliant so-called
"high flow" safety spouts
which are available in California. Either I don't know how to use them properly, or the safety spouts are not so "high flow" requiring one to hold a fairly heavy gas can up for perhaps 10 minutes.
On a recent trip a couple of weeks ago, same problem, but didn't require as much gas between stops. As it turns out, I used only one can, mainly to avoid a gas stop on the way home on the busy Interstate 15 from Las Vegas on a Sunday night. Double whammy here with 11 lb propane tanks also in the vehicle.
If anyone has suggestions on external mounting of propane and fuel cans on a Toyota Sequoia, I'd be delighted to hear about it!
---
Swiss Military Fuel Nozzle
Here is the Swiss military nozzle that is made to work with the German (NATO standard) fuel cans -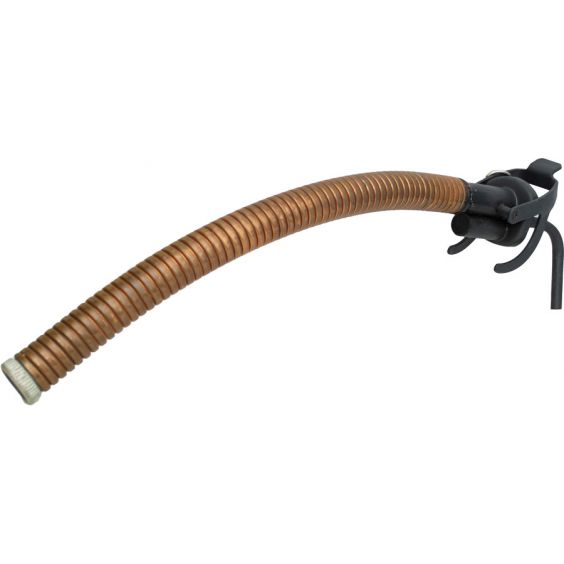 This nozzle includes an air breather tube and is definitely not CARB approved as a few drops of gas often leak out of the breather tube when the fuel can is inverted to fill the vehicle. There is also a conical filter screen at the end of the nozzle which becomes very important if you are using old military fuel cans where the red lining is beginning to flake off (don't ask me how I know). A 20l fuel tank will completely empty in about 30 seconds when held inverted NASCAR style.
https://expedition-imports.com/SWISSNOZZLE
NOTE:
These nozzles will not work on modern vehicles with the narrow unleaded fuel fillers or anti siphon restrictions.
Last edited by
NotAMog
on Thu Apr 08, 2021 5:09 pm, edited 1 time in total.
Bruce Berger
KD6GCO
'72 Pinzgauer 710M 2.6i
'91 Honda ST1100 197,000miles and counting
(I hope to make it to at least half the places this bike has been)
'04 Tacoma / AT FlipPac Camper
'07 Moto Guzzi Norge - Corsa Red - The faster color
---
If we have time, another butane-fueled product to go along with the Gas One Stove that Kevin spotlighted in post #2.
The
Kovea Cupid
is a butane-fueled heater that produces 5,633 BTUs of heat. Very compact design with a carrying handle. Piezo ignitor. Around $100.
Compare to the
Mr. Heater Little Buddy
which produces 3,800 BTUs and is notably bulkier, though has a low oxygen shutoff.
Butane has a higher vaporization temperature of 33°F compared to propane's -44°F. However, with a little care to keep the fuel canister warm, it worked fine to provide extra morning heat in our tent and especially for use in a "potty" tent at temperatures in the low 20s.
8 oz butane canisters are available for $0.90 at some Asian markets, and last for two hours at full blast.
There are ways to run this heater with other fuels as detailed here:
https://www.overlandbound.com/forums/th ... ter.33805/
---
KK6CTT for the online check-in for the 04/08/21 net please.
Questions concerning the Scepter, military style, fuel cells:
Has anyone experienced issues with the expansion contraction of the sealed can and had a heck of a time getting the lid off the can when the can is contracted due to cold weather/altitude change?
Is the cap wrench the answer to this problem?
Besides the cap wrench, how did you deal with this issue with respect to this system or other systems where expansion/contraction of the material can be an issue?
Thanks in advance.
[b]HUA[/b] or "Hooah!" = Heard Understood & Acknowledged. In context: "Roger that sir, HUA!"
---
Posts: 232
Joined: Sat Sep 27, 2008 11:41 pm
Call Sign: W6PET
Location: Southern California
Contact:
I too was on the same Grand Canyon - Parashant National Monument trip mentioned above and the below picture is my solution to carrying additional fuel.
I purchased two Front Runner Jerry Can holders. The holders are designed to mount onto a Front Runner roof rack. I instead purchased two pieces of angle iron from the local metal shop for about $11. I welded the Jerry Can holders to the angle iron and using "U" bolts attached it to my OEM roof rack.
Here is a link to the Front Runner Jerry Can Holders.
https://www.frontrunneroutfitters.com/e ... older.html
My original plan was to purchase my Jerry Cans from Deutsche Optik and ordered them with enough lead time to arrive well before the trip but they here held up in Germany (where they are made) do to a labor strike. The Deutsche Jerry Cans are well built and California Carb Compliant. I canceled the order and ordered from another company, but these were not California Carb Compliant and not the quality of the Deutsche and could not be shipped into California. I arranged with an Off-Road store in Yuma AZ and had them shipped to them. My wife and I made a day trip to Yuma, she got to shop in her favorite store and I got Jerry Cans.
Here is a link to my original Jerry Cans from Deutsche.
https://deutscheoptik.com/SET-OF-FOUR-2 ... y-Can.html
The Parashant trip was the first time used this setup and was curious if the stock roof rack would hold the additional 120 lbs and how the weight would effect my center of gravity. Suffice to say the rack held and with the suspension setup I have I did not feel any adverse effects to my center of gravity. In fact it was negligible.
The RotoPax are mounted to an Expedition One bumper with a swing out arm.
Phil
"I'd rather be in the mountains thinking of God, than in church thinking about the mountains."
John Muir
---
Posts: 232
Joined: Sat Sep 27, 2008 11:41 pm
Call Sign: W6PET
Location: Southern California
Contact:
Early checkin please.
I will be listening on my Handheld but Xmit will not reach the repeater.
Phil
"I'd rather be in the mountains thinking of God, than in church thinking about the mountains."
John Muir
---
---
OAUSA Board Member
Posts: 78
Joined: Thu Jun 23, 2016 5:28 pm
Call Sign: Ke6vrl
Contact:
By far the best way to refuel from a rear or roof mounted rack is a special Jiggler type siphon hose. It is possible to obtain extension hoses that will allow you to easily refuel without having to bear the weight of a can.
https://superjiggler.com
I have used mine for years and continues to perform flawlessly and safely.
Ensure your hose is stiff enough to hold it's roundness. Do not roll it too tightly so as to introduce kinks in the hose. I recommend storing your hoses in large ziplock bags to control odors. Allow as much of the liquid fuel to flash off before storing. One interesting problem I found was trying to refuel in a very windy condition. The airflow across either the fuel can or fuel filler created a pressure differential that made it impossible to maintain a vacuum for the siphon to flow. I unfortunately cannot remember which I had to shield wind with my hand to allow the flow. My best recollection was the can,. It it may have been the fuel filler.
By the way I usually carry spare fuel in Jerry cans on a rear rack and roof rack =====> see the avatar.
I can readilly recommend the
Hector Figueroa
Toyota FJC
Kenwood TS-480HX SCS DR-7800 Tarheel 2
Yaesu FTM-400XDR
---
Who is online
Users browsing this forum: No registered users and 2 guests